3-AXIS AND 5-AXIS TRAVERSE ROBOTS WITH WRIST OPTIONS
Our 3-axis and 5-axis servo traverse robots are used for various applications in the horizontal plastic injection molding processes that require high-speed unloading of molded parts.
There are two types of 2-axis servo wrist model (Ry or Rz) to select from for your production needs; parts releasing pattern or integration with other automation machines.
The Ry wrist model is capable of rotating around the y ("roll") and x ("pitch") axis while the Rz model for the z ("yaw") and x ("pitch") coordinates (see images in the gallery).
Applicable Robots: HRXⅢ-i & b Series (100i/b-850i/b)
Horizontal, vertical, and rotational motions are servo controlled to drastically increase efficiency in removal of special-shaped parts, undercut, and transfer to a downstream camera station, a box filling system, or a degater.
FEATURES
The ideally designed HRX III series contributes to improving productivity in factories, generating faster take-out time and a wider range of the maximum payload.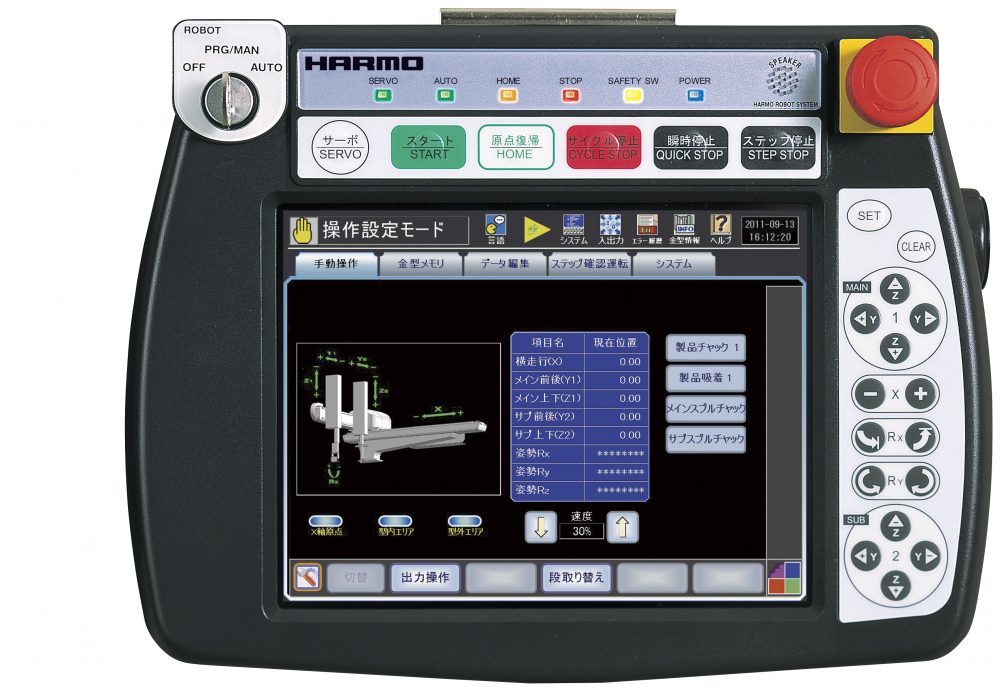 Vacuum ejector : 1 circuit
Palletizing (up to 999 points per axis)
Selectable home positions (1st Entry / Out-Mold / Above Mold / Backward)
Reject circuit
Counters (Example: Initial Reject / Sampling)
Pass motion (speedup motion)
Part grip : 1 circuit
Built-in memory for mold data
(up to 1000 memories)
Smart Programming
Initial reject
Take out from moving platen
Display language selector
Main Sprue Grip: 1 circuit
Adjustable point coordinates during the auto-run
Customizable screen display layout
Sampling
Wrist flip en-route (speedup motion)
Quick point-teaching features (Teach & Go / Point Stop / Cordinates entry)